INTERNATIONAL MAIL ART PROJECT BY RUGGERO MAGGI

IN COLLABORATION WITH SACS AND THE DYNAMIC MUSEUM OF MAIL ART IN QUILIANO (SV)
"To help the Ukraine it means to work for peace"

Mario Draghi, May, 3rd 2022 – European Parliament – Strasbourg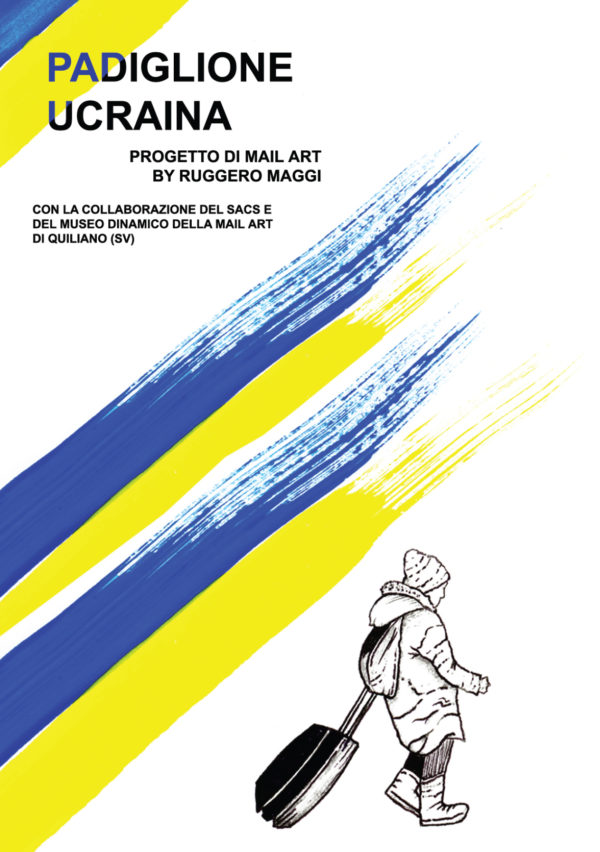 On Saturday, May 28th 2022, at 5 p.m. the UKRAINE PAVILION will open. An International Mail Art project curated by Ruggero Maggi, in collaboration with SACS and Dynamic Museum of Mail Art in Quiliano (SV). Followed by speeches of Nicola Isetta, Major of the city of Quiliano, of Nadia Ottonello, Culture Assessor of Quiliano, of Mauro Carrera, writer and art critic, of Cristina Sosio, SACS director and of Ruggero Maggi, artist and curator of this exhibition.
Also the mail art must make its voice heard… we are all aware of what the Ukrainian people is feeling on their own skin.
Hundreds of international artists of 43 different countries have sent works in blue and yellow colours in order to compose a great and creative Ukrainian flag, as a sign of peace. In 2018, for the opening of the Dynamic Museum of Mail Art in Quiliano, we presented a great flag of peace. The present celebration can be therefore considered as the ideal extension of what was done at that time.
The violence of war assaults like a virus that simmers for years, for many decades, and then explodes with all its brutal strength. It spreads like wildfire, it contaminates souls, killing and violating consciences. It hides behind false smiles, behind vulgar masks only to reveal itself for what it really is… an insane and arrogant instinct towards the most unrestrained violence, without regard for even the most basic human rights. Man is a "special" being but he isn't master of creation, as the recent pandemic reminded us, and those who defy Nature always pay the consequences and war is the most striking example of an offence to the nature and to other human beings.
We don't take a stance against a country in favour of another… it's a permanent stance against war wherever the aggression comes from. Violence is never acceptable.
The conflict, in that part of the world, was already underway in 2014, but it was at "low-intensity" or, at least, that's how it was defined and, like fire under the ashes, as soon as Covid began to claim fewer victims, it exploded in all its harshness…what a perverse game war is …always.
At the opening of the project, artists and public, were invited to bring their own trolley which will be placed in order to create a long line leading to the exhibition: in silent remembrance of what's happening to the Ukrainian people forced to flee the cities, the villages, their homes.
Mail Art has always been mobilised in favour of social causes and has succeeded in involving thousands of people all over the world. This concept was expressed several times during the meeting Maggi organized at Villa Fanna (Villorba,TV), 30 years ago for the Decentralized Networker Congress led by H.R.Fricker.
All works submitted will be donated from the curator to SACS archive of the Municipality of Quiliano; a special thanks to Cristina Sosio, who directs it, to Monica Gambetta, employee of Culture office of the city of Quiliano, and to Lilia Viriglio for translating.
Poste Italiane has participated to UKRAINE PAVILION with a special philatelic cancellation – reproducing the logo of the project designed for the occasion by Maggi – that will be presented on the opening day.
I would like to thanks Daniela Nurisio, referent of Philately Provinces of Savona and Imperia and Loredana Lenza, referent of Philately MP – Area North West.
An online catalogue will be realized with the works of participating artists.
A friend from Genoa suggested me this sentence by Roberto Vecchioni taken from "Stranamore" of 1978: "Man is a great, man is alive, man is not war…"

Stranamore, Roberto Vecchioni, 1978.
Some participations for Ukraine Pavillon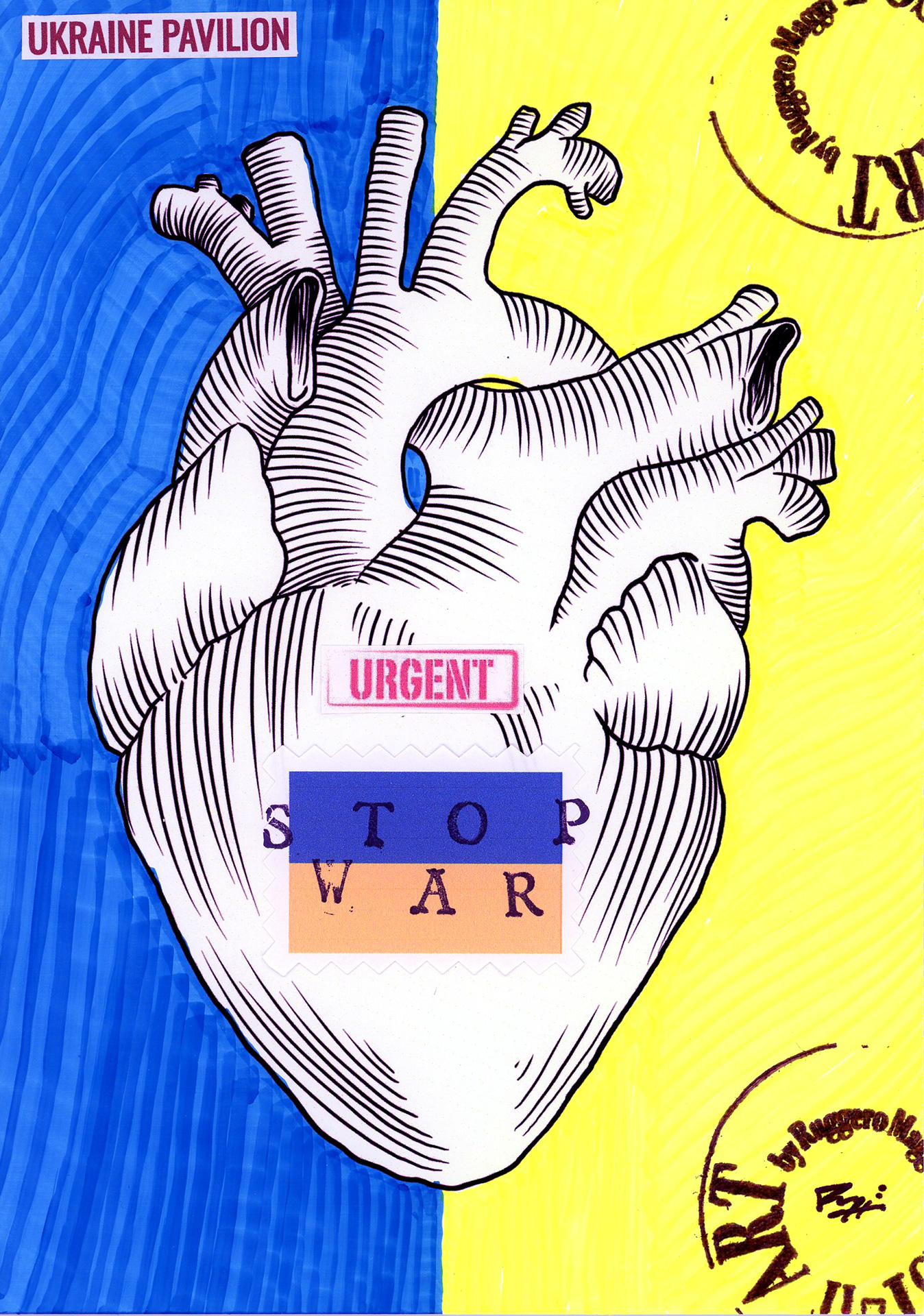 PARTICIPATING ARTISTS
ANDORRA Julien Rdx ARGENTINA Lucia Carotenuto – Claudia Catanzaro – Licia Escobar – Claudia Garcia – Floki Gauvry – Raquel Gociol – Maya Lopez Muro – Stella Maris Velasco – Amelia Vilches AUSTRALIA Denis Mizzi – Terry Reid AUSTRIA Anonimo – Bernhard Cociancig – Monika Lederbauer – Horváth Piroska BELGIO Guy Bleus – Broc – Frips – Jean-Philippe Gilliot – Fabienne Gonay – Sjoerd Paridaen – L. Van Vana – Josè Vandenbroucke – Viva VercruysseBIELORUSSIA Irina Novikova BRASILE Maria Do Carmo Both – Marcelo Dola – Roberto Keppler – Hugo Pontes CANADA Diane Bertrand – R.F. Cotè – Hervé Fischer – Susan Gold – Vinh La Toan – Mailarta – Snappy COREA Kim Jung Youn  COSTARICA Johanna Diaz DANIMARCA Marina Salmaso ESTONIA Ilmar Kruusamäe FINLANDIA Anja Mattila-Tolvanen FRANCIA Christian Alle – Ioan Bunus – Christian Burgaud – Helena Gath – Nadine Lenain – Christophe Massé – Renaud Piermarioli – Marie Rose Rigault – André Robèr – Didier Trumeau GERMANIA Rüdiger Abshalom Dalit Westphal – Lutz Anders – Hanna Bayer – Hans Braumüller – Ingo Cesaro – Julia Conrad – Milla Deuschele – Samira El Zein – Fidels Daughter – Thorsten Fuhrmann – Thomas Glatz – Klaus Groh – Elke Grundmann – Annegret Heinl – Laura Herrmann – Jutta Hesse – Uwe Höfig – Nula Horo – Eberhard Janke – Petra Lorenz – Ute Mescher – Jürgen Olbrich – Reinhard Ploetz – Victoria-Luise Scheible – Dorte Schmidt – Peter Schubert – Lars Schumacher – Susanne Schumacher – Jürgen Schwarz – Carolina Tomaschewski – Horst Tress – Christiane Wegner-Klafszky – Günther Wolfgang – Karin Wurst – Bernhard Zilling GIAPPONE Ryosuke Cohen/Noriko Shimuzu – Ogawa Kazuko – Tadashi Maeyama – Tohei Mano – Keiichi Nakamura GRAN BRETAGNA Keith Bates – Jean Edwards – Lola Gonzalez GRECIA Costas Evangelatos – Katerina Nikoltsou INDIA Renuka Kesaramadu IRAN Hamedi Elham ITALIA Silvia Abbiezzi – Walter Accigliaro – Laura Agostini – Maria Alborino – Altan – Franco Altobelli – Antonio Amato – Nadia Andreani – Salvatore Anelli – Enzo Angiuoni – Patrizia Antonini – Caterina Arcuri – Erika Baggini – Paola Baldassini – Franco Ballabeni – Bobo Banchi – Vittore Baroni – Clara Bartolini – Donatella Baruzzi – Pier Roberto Bassi – Paola Bassini Sabatti – Elisa Battistella – Sandro Beffa – Silvana Beltrame – Rosetta Berardi – Luisa Bergamini – Nicola Bertoglio – Carla Bertola – Giuseppe Bertolino – Luciana Bertorelli – Emanuele Bevilacqua – Marco Bevilacqua – Gabriele Bianconi – Giorgio Biffi – Daniela Billi – Lucia Biral – Bloriti 22 – Rovena Bocci – Mariella Bogliacino – Maria Bonaduce – Giovanni Bonanno – Adriano Bonari – Giambattista Bonazzoli/Andrea Zani – Ober Bondi – Luciano Bonomi – Elisabetta Bosisio – Cesare Botto – Marzia Maria Braglia – Piero Brombin – Maria Grazia Buso – Viviana Buttarelli – Mariangela Cacace – Mirta Caccaro – Alfonso Caccavale – Giampietro Cacciamali – Loredana Cacucciolo – Mariangela Calabrese – Veronica Caleo – Sabrina Campadelli – Giancarlo Caneva – Maria Amalia Cangiano – Carla Cantore – Angela Caporaso – Lucia Caprioglio – Guido Capuano – Lamberto Caravita – Bruno Cassaglia – Giampiero Castiglioni – Maria Teresa Cazzaro – Alessandro Ceccotto – Fabiola Cenci – Renato Cerisola – Andrea Cervone – Raffaele Cesari – Laura Chiarello – Carmine Cianci – Maria Antonietta Claretto – Cobàs – Mabi Col – Andrea Colaianni – Carmela Corsitto – Valentina Cozzi – Anna Crescenzi – Antonio Crivellari – Carla Crosio – Giampietro Cudin – Crescenzio D'ambrosio – Maria Grazia Dapuzzo – Giorgio De Cesario – Michele De Luca – Antonio De Marchi Gherini – Rino De Michele – Teo De Palma – Albina Dealessi – Patrizia Dellavalle – Mimmo Di Caterino – Sandro Di Cesare – Elena Di Felice – Gabriele Di Francesco – Antonio Di Michele – Annitta Di Mineo – Renata Di Palma – Franco Di Pede – Marcello Diotallevi – Gianni Dorigo – Graziano Dovichi – Gianfranco Duro – Elisabetta Ecca – Mimmo Emanuele – Gretel Fehr – Domenico Ferrara Foria – Davide Ferro – Claudio Mario Feruglio – Angela Filippini – Mimicha Finazzi – Alessandra Finzi – Franco Flaccavento – Antonia Fontana – Roberto Formigoni – Aldo Frangioni – Giglio Frigerio – Laura Frova – Pamela Fullin – Antonella Gandini – Ornella Garbin – Claudio Gavina – Ombretta Gazzola – Ivana Geviti – Roberta Ghisla – Mario Giavino – Lodovico Gierut – Mauro Girardi – Gloria Giuliano – Lino Giussani – Paolo Gobbi – Bruno Gorgone – Claudio Grandinetti – Giorgio Guaini – Peter Hide 311065 – Ursula Huber – I Miradebora – Luigina Iacuzzi – Rosetta Imbrogno – Benedetta Jandolo – Eugenio Lanfranco – Glauco Lendaro Camiless – Alfonso Lentini – Pino Lia – Oronzo Liuzzi – Piera Lizzola – Serse Luigetti – Anna Maria Macrì – Ruggero Maggi – Gabriella Maldifassi – Antonio Mancini – Adelma Mapelli – Paolo Marazzi – Gaia Marinari – Emanuele Marsigliotti – Maria Grazia Martina – Fabrizio Martinelli – Daniela Mastromauro – Anna Maria Matone – Ghislain Mayaud – Maria Teresa Mazzei – Simone Mazzoleni – Massimo Medola – Moreno Menarin – Monica Michelotti – Tina Milazzo – Virginia Milici – Gabi Minedi – Edi Miotto – Annalisa Mitrano – Giorgio Moio – Mauro Molinari – Patrizia Molinari – Fernando Montà – Maria Montecalvo – Emilio Morandi – Giovanni Morgese – Marcello Napoli – Giuliana Natali – Luigi Negro Barquez – Nowaral – Paolo Nutarelli – Stefano Oggero – Anna Olivares – Giuseppe Orazio – Pierangela Orecchia – Lucia Paese – Angelo Paglietti e Vertilio Battistella – Cristiano Pallara – Teresa Claudia Pallotta – Linda Paoli – Paola Pareschi – Stefano Pasquini – Aldo Petrini – Pasquale Petrucci – Marisa Pezzoli – Riccardo Pezzoli – Laura Pigo – Magda Pikul – Tarcisio Pingitore – Sara Pirrotta – Mauro Pispoli – Anna Pizzi – Plumcake – Teresa Pollidori – Marzia Pollini – Veronique Pozzi Painé – Alessandra Pozzobon – Veronica Prin – Tiziana Priori – Alessandra Pucci – Giancarlo Pucci – Antonio Pujia Veneziano – Mario Quadraroli – Maurizia Ragni – Viviana Ravelli – Laura Recchia – Mariella Relini – Gaetano Ricci – Isabella Rigamonti – Carla Rigato – Caterina Rizzo – Barbara Romani – Sabina Romanin – Raffaele Romano – Gianni Romeo – Lucio Ronca – Pietro Ronzat – Giovanni Ronzoni – Sandra Rosa – Serena Rossi – Imerio Rovelli – Lucrezia Ruggieri – Maria Luisa Sabato – Eleonora Sala – Antonio Saladino – Piero Sani – Sergio Sansevrino – Gabriella Santarelli – Antonio Sassu – Roberto Scala – Manuela Scannavini – Mariarosa Scerbo – Andrea Schiavo – Anna Seccia – Gianni Sedda – Elena Sellerio – Cesare Serafino – Lucio Tiziano Serafino – Noha Serafino – Marisa Simoni – Cecilia Solamito – Luigino Solamito – Loredana Soliani – Alberto Sordi – Cristina Sosio – Lucia Spagnuolo – Celina Spelta – Ilaria Sperotto – Rosa Spina – Salvatore Starace – Giovanni e Renata Stradada – Leo Strozzieri – Piero Tacconi – Maria Grazia Taddei – Elisa Taiola – Antida Tammaro – Gian Paolo Terrone – Camilla Testori – Elsa Testori – Roberto Testori – Armando Tinnirello – topylabrys – Paola Toffolon – Giuseppe Luca Torraco – Elisa Traverso – Giorgio Trinciarelli – Ilia Tufano – Stefano Turrini – Francesco Valotti – Paola Vantadori – Giovanna Vecchio – Generoso Vella – Silvia Venuti – Ada Eva Verbena – Giangrazio Verna – Nicoletta Veronesi – Rosanna Veronesi – Alberto Vitacchio – Shura Oyarce Yuzzelli – Luigia Zanetti Poli – Leo Zanin – Manlio Zanini – Elisabetta Zappulla – Antonio Zenadocchio – Rolando Zucchini LITUANIA Mindaugas Žuromskas LUSSEMBURGO Fraenz MACEDONIA Zlatko Krstevski MAROCCO Anas Bouanani  MESSICO Diana Magallon NORVEGIA Torill E. Larsen OLANDA Ko De Jonge – Ever Arts – Ed Hanssen – Carmen Heemels – Werner Klompen – Rob Komen – Monika Loster – Hans Overvliet – Rod Summers/Vec – Hetty Tinner – Jan Verschoore PERU' Michela Artoni POLONIA Grazyna Borowik – Andrzej Dudek Dürer – Victor Novick – Arkadiusz Sędek – Ewa Wisniewska-Zduniak PORTOGALLO Sonia Cabanez – Teresa Pedroso – Paulo Teles-Brottas REPUBBLICA CECA Zdenĕk Šima ROMANIA Ecaterina Art Schiwago – Ovidiu Petca – Nono Zilahi RUSSIA Evelina Schatz SPAGNA Sabela Baña – Pedro Bericat – Marta Canals – Daniel De Cullá – Victoria Encinas – Bartolomé Ferrando – Eva Ibirico – Irene Ibirico – Miguel Jimenez – Antonia Mayol Castello – Myriam Mercader – Antonio Moreno – Paco Pérez Belda – Erika Pűtz – Jaume Rocamora – Manuel Ruiz-Ruiz – Daniela Saez – Horacio Sapere – Nerea Tejeiro Collado – Mikel Untzilla – Valdor – Victor – Fidel Vidal – Manuel Xio Blanco SVEZIA Henry Hermunen Grahn SVIZZERA M. Vänçi Stirnemann TURCHIA Furkan Afatsun – Emine Akipek – Yasemin Atesli – Aysejut Avcu – Gelin Bulakoglu – Tugçe Efe – Kaan Elitas – Malala Fousafzai – Emine Güneyli – Nihal Gȕres – Başak Kaşikçi – Turgut Kayci E. – Dilara Kilis – Aḡar Meral –  Tire Muzaffer – Hutku Ozderim – Selin Pekkouk – Furtana Rabia – Gamze Sahin – Samet Sari – Irem Surer – Damla Nur Taɛdemir – Haline Turhun – Didem Yilmaz – Şeyda Yōntem UCRAINA Kateryna Repa – Lubomyr Tymkiv UNGHERIA Gyöngyi Karoly Zöld URUGUAY Maria Victoria Bonè Ramirez – Clemente Padín USA David Stanley Aponte – Angel Arvello – Roberta Bartel – Carl T. Chew – Mary Coiteux – John Colantuono – Crackerjack Kid – Irene Dogmatic – Mike Dyar – Ex Posto Facto – Exhibit D/Debra Mulnick – Milicent Fambrough – Ed Giecek – Jim Hayez – John Held Jr. – Honoria – Lonna Kelly – Teresa Madariaga – Willie Marlowe – Michael Orzechowski – Junanne Peck – Picasso Gaglione – Adam Roussopoulos – Sandragons – Judith Skolnick – Stangroom – Alicia Starr – State Of Being – The Sticker Dude – Karen Wood – Tamara Wyndham VENEZUELA _guroga – Angelica Leal
Biblioteca Civica A. Aonzo
Piazza Costituzione
Quiliano (SV)

UKRAINE PAVILION
International Mail Art Project curated by Ruggero Maggi
with the collaboration of SACS – Dynamic Museum of Mail Art
28 May – 30 july 2022
OPENING
Saturday May 28th 2022 at 17.00

Hours: Tuesday 9.00/12.00/15-18 – Wednesday 15.00 – 18.00
Tuesday: 9.00-12.00 – Friday 15.00/18.00 – Saturday 9.00 – 12.00

Info | www.sacsarte.net | tel 019 8878311 (Biblioteca Civica A. Aonzo) | email: info@sacsarte.net